Consulting
Too often, BI software vendors merely offer the platform, with minimal consulting, depriving you the value from your software investment. Some offer slightly more consulting but only create a few specialized reports and then leave the rest to you.
BravePoint Business Intelligence (BI) consultants have a wealth of experience in crafting BI solutions for companies of all sizes. Every engagement follows our proven methodology, the BI Blueprint.
So how does Bravepoint establish the BI Blueprint for your company?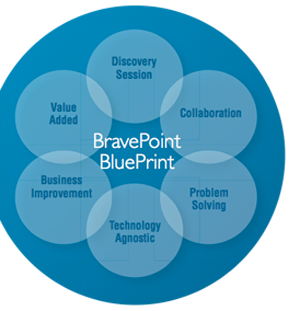 Discovery

Our consultants meet with your organization's stakeholders and work with you to define the KPIs relevant to you and your industry. We keep our eyes and ears open, looking to uncover additional opportunities that may have been overlooked in the past.

Your business processes are thoroughly reviewed to ensure that the most effective and efficient processes are in place for a successful BI project. If any improvements or refinements are discovered in these processes, they are explored as well.

All of our blueprints not only include your defined 'must-haves,' but also your 'nice-to-haves.' Even if additional requirements are not immediately implemented, they are documented for future consideration.




Refinement

After going through the discovery process, our team presents the stakeholders with a first pass at the blueprint. Much like an architect that builds a blueprint for a home, we build a blueprint for your BI solution. Upon delivery of the BI Blueprint to your organization, we collaborate to identify and prioritize the deliverable most impactful to your organization.

Using this document, Bravepoint will build a BI solution that is both affordable and meets your business needs.

Our value added approach and partnership with your organization
is why companies recognize Bravepoint as the leader in business intelligence solution delivery.
Satisfied Customers Say:
"The software we had been using to manage our sales, scheduling, production, quality and financial management were disparate and uncoordinated. We utilize Axiom ERP software especially tailored for the metals, wire and cable industries - and it is an essential piece of software.
We needed a solution that allowed for easy, direct reporting to the Progress database. We needed, basically, a bridge between our Progress database and SQL server, where the package would run smoothly.
We got that and so much more by working with BravePoint."
Rhonda Harmon
IT Director
Bristol Metals, a division of Synalloy Corporation
Tecnology Expertise Includes:
SQL Server
Oracle
Progress
MySQL
PostgreSQL
DB2